Download a printable version of this document here (A4 or 8.5×11).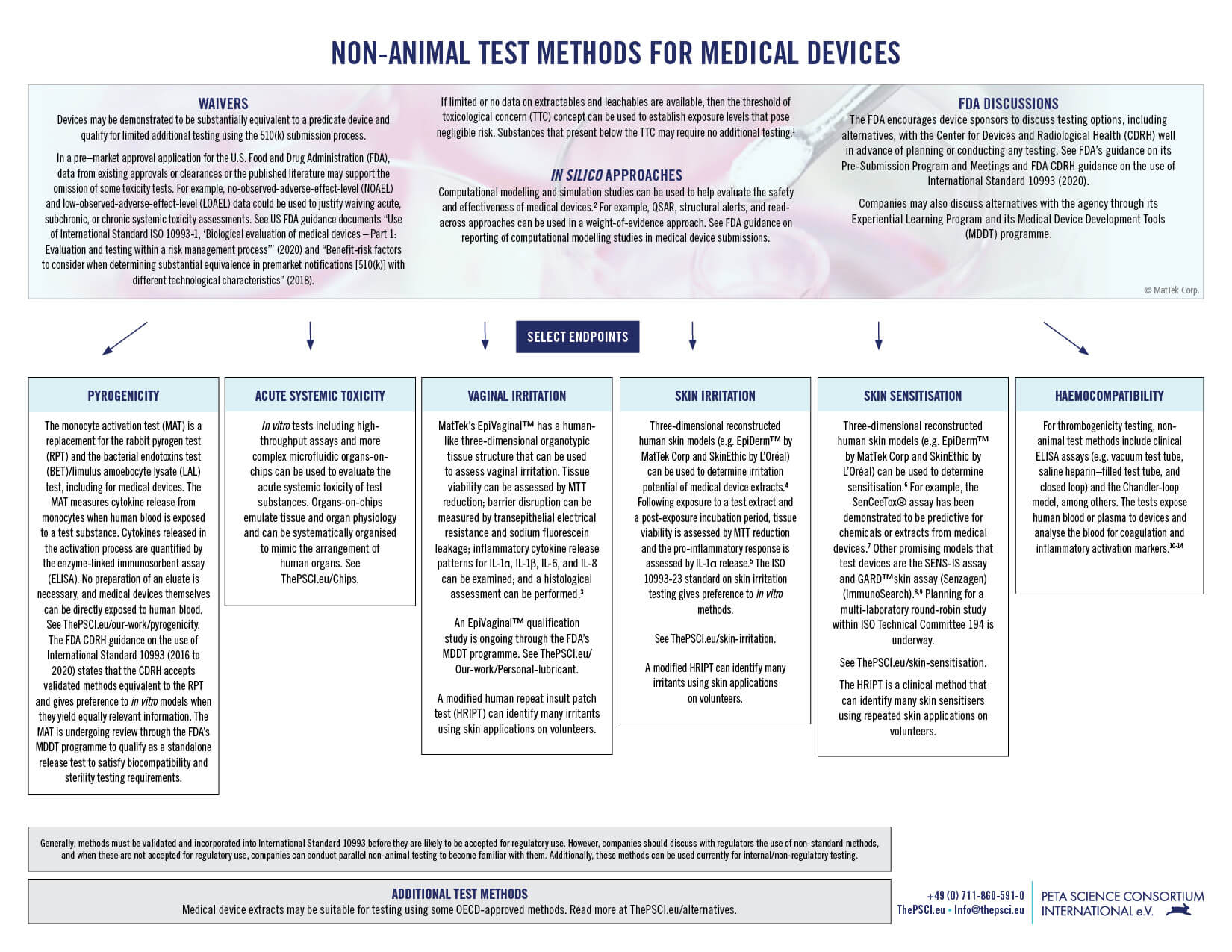 References

1Partosch F, et al. Internal threshold of toxicological concern values: enabling route-to-route extrapolation. Arch. Toxicol. 2015;89(6):941–948.

2Viceconti M, et al. In silico assessment of biomedical products: The conundrum of rare but not so rare events in two case studies. Proc Inst Mech Eng H. 2017;231(5):455–466.

3Ayehunie S, et al. Development of an in vitro alternative assay method for vaginal irritation. Toxicology. 2011;279(1–3):130–138.

4De Jong WH, et al. Round robin study to evaluate the reconstructed human epidermis (RhE) model as an in vitro skin irritation test for detection of irritant activity in medical device extracts. Toxicol In Vitro. 2018;50:439–449.

5Casas JW, et al. In vitro human skin irritation test for evaluation of medical device extracts. (2013). Toxicol In Vitro. 2013;27(8):2175–2183.

6McKim JM, et al. An in vitro method for detecting chemical sensitization using human reconstructed skin models and its applicability to cosmetic, pharmaceutical, and medical device safety testing. Cutan. Ocul. Toxicol. 2012;31(4):292–305.

7Coleman KP, et al. Evaluation of an in vitro human dermal sensitization test for use with medical device extracts. Appl. Vitr. Toxicol. 2015;1(2):118–130.

8Cottrez F, et al. SENS-IS, a 3D reconstituted epidermis based model for quantifying chemical sensitization potency: Reproducibility and predictivity results from an inter-laboratory study. Toxicol In Vitro. 2016;32:248–260.

9Johansson H, et al. Validation of the GARD™skin assay for assessment of chemical skin sensitizers: Ring trial results of predictive performance and reproducibility. Toxicol. Sci. 2019;170(2):374–381.

10Sinn S, et al. A novel in vitro model for preclinical testing of the hemocompatibility of intravascular stents according to ISO 10993-4. J. Mater. Sci. Mater. Med. 2011;22(6):1521–1528.

11Girdhar G, et al. In-vitro thrombogenicity assessment of flow diversion and aneurysm bridging devices. J Thromb Thrombolysis. 2015;40(4):437–443.

12Girdhar G, et al. Thrombogenicity assessment of Pipeline Flex, Pipeline Shield, and FRED flow diverters in an in vitro human blood physiological flow loop model. J Biomed Mater Res A. 2018;106(12):3195–3202.

13Girdhar G, et al. Thrombogenicity assessment of Pipeline, Pipeline Shield, Derivo and P64 flow diverters in an in vitro pulsatile flow human blood loop model. eNeurologicalSci. 2019;14:77–84.

14Wolf MF, et al. In vitro methodology for medical device material thrombogenicity assessments: A use condition and bioanalytical proof-of-concept approach. J Biomed Mater Res B Appl Biomater. 2021;109(3):358–376.